Sharon, M.H.A., B.A.
Chief Experience Officer & Practice Manager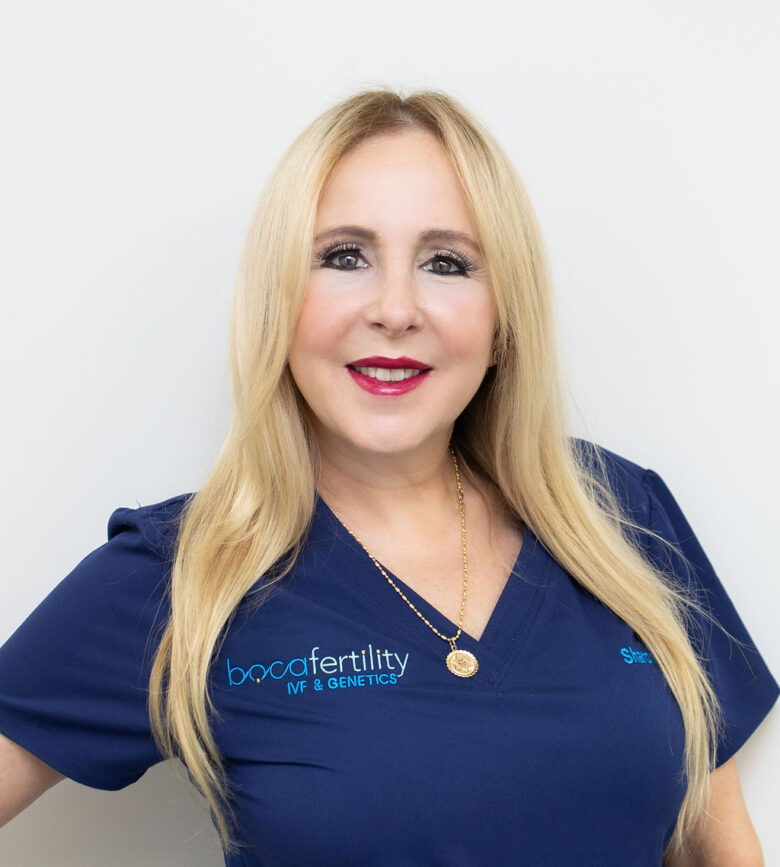 Education and Training
B.A. from the University of Maryland

West Boca Medical Center School of Radiology

Certified in Customer Service by the John DiJulius Group

Certified HealthMath® Coach

Registered Medical Assistant, American Medical Technologies

M.S. in Healthcare Administration, Florida Atlantic University
Interests
Patient experience, fertility coaching, care quality management
About Sharon
Sharon received her B.A. degree from the University of Maryland in 1989. Sharon graduated from West Boca Medical Center School of Radiology in 2004. Sharon received her registry and license in radiology in 2005. She worked as a Mammography Technologist at the Women's Center at Boca Raton Regional Hospital where she learned the importance of compassion and accuracy with patients. In 2012, Sharon became certified in customer service by the John DiJulius Group.
In 2016, Sharon became a certified HeathMath ®Coach. She meets with patients to teach them stress management and resilience building techniques to assist the patient's success rate of becoming pregnant. Sharon became certified as a Registered Medical assistant in 2020 by American Medical Technologists. Sharon graduated with a Masters in Health Administration from Florida Atlantic University in May of 2020.
Sharon's passion and responsibility is to ensure that Boca Fertility offers their patients world class fertility care with hope and compassion.
Patient Reviews
We were recommended to Dr. Peress and Boca Fertility from a very good friend and couldn't be any happier. From the very first virtual consultation through graduation, we always felt supported and heard. The nurses were always caring, providing us with the needed smile or hug and always happy to answer all our crazy questions. It was ultimately a long, hard journey but we couldn't have imagined it with anyone else. Boca Fertility has become family and because of them, we're finally getting ready to start our own!
Patient Reviews
The staff at Boca Fertility are all incredibly knowledgeable, responsive and compassionate with their patients; I'm so thankful to have found them! I've always been able to contact someone and speak directly with a nurse regarding any concerns and they've genuinely gone above and beyond to make sure I'm reassured and well informed on everything regarding my care. They're one of the few places I've been where I can say I'm completely confident in the care being provided. I would strongly recommend them to anyone seeking a fertility specialist.
Patient Reviews
I wish I had found Dr Peress and his staff earlier in our journey. Dr. Peress is knowledgeable and very kind, never making you feel rushed. He is patient and reassuring throughout the entire process. His staff, though, is remarkable and I couldn't recommend the entire office enough. The nurses, the front desk staff, and every one you meet along the way is so friendly and very empathetic, making the journey a bit easier. Amy, Mariah, Adela, Taylor, and Rachel, just to name a few, are the kindest nurses I've met and I'm thankful for having them hold our hands for about 1.5 years. The bedside manner is great, and the constant communication between patient and staff is not something you find often. I can't thank enough the entire office for their wonderful care!!
Get to know the rest of our team